Network News & Social Feed
Animated Mother Goose
About this video
Get the KIDOONS News
Sign up to receive news and updates.
Stories
Love is in the air! Are you excited for Valentine's Day on February 14th? Everyone at Kidoons Network sure is! So who is Valentine exactly? We know that because there is an apostrophe before the letter 's', the day belongs to someone ...
Read More
Read all articles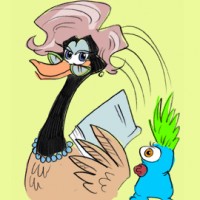 Welcome to Animated Mother Goose!
Here you will find a collection of fairy tales, nursery rhymes and children's stories that have been passed down through generations and published over centuries... Watch videos, read stories and download colouring books!
Old Mother Goose,
When she wanted to wander,
Would ride through the air
On a very fine gander.
Jack's mother came in,
And caught the goose soon,
And mounting its back,
Flew up to the moon.