Network News & Social Feed
Animated Mother Goose
About this video
Get the KIDOONS News
Sign up to receive news and updates.
Stories
100 years since the end of World War I November 11 marks 100 years since the end of World War I, Nov. 11th, 1918. The War Ended with at "eleventh hour of the eleventh day of the eleventh month". The war was won, but with great ...
Read More
Happy Halloween! Tonight's the night to get tricked-out and earn some treats! Visit AnimatedHalloween.com for tips for Safe Trick-or-Treating, in "Trick Or Treat Time!" Have a safe and Happy Halloween!
Read More
Read all articles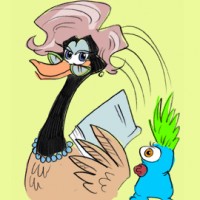 Welcome to Animated Mother Goose!
Here you will find a collection of fairy tales, nursery rhymes and children's stories that have been passed down through generations and published over centuries... Watch videos, read stories and download colouring books!
Old Mother Goose,
When she wanted to wander,
Would ride through the air
On a very fine gander.
Jack's mother came in,
And caught the goose soon,
And mounting its back,
Flew up to the moon.